John Wilson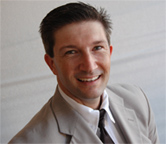 John has been a professional entertainer for more than 20 years. Throughout his career he has enjoyed a diverse range of opportunities. Straight out of college he joined "Re-Creation" (America's Ambassadors to Hospitalized Veterans). For two years he performed 300 plus shows a year throughout all of the 48 contiguous States. Then after two years away from "Re-Creation" he returned for another year as Road Manager and featured vocalist.
During his tenure at Busch Gardens, Tampa, John has been in many different shows and entertained audiences at thousands of performances. Show credits at Busch Gardens include:
"Latin Heat"
"Heart of the Country"
"Hollywood Live on Ice"
"American Jukebox"
"Mirage Canteen"
"Irish Thunder"
"Rock-a-Doo-Wop"
"Christmas From the Heart"
Probably John's most unique entertainment opportunity came when he became a circus ringmaster. His first ringmaster position was with the first North American tour of "Circus Williams Althoff". Since then he has been the ringmaster for some of the biggest names in American circus:
"Royal Hanneford Circus"
"Sterling and Reid Bros. Circus"
"Bentley Bros. Circus"
"Circus Hollywood"
"Circus Gatti"
"Hamid Circus"
And more… John still works as a ringmaster on a part time basis. Now, John has embarked on his newest endeavor. (One which he feels his entire career has been leading him to.) "Soul and Inspiration" a tribute to the "Righteous Brothers". Working with Andrew Schlosberg, a former colleague from "Busch Gardens", they bring back the "Blue Eyed Soul" of the "Righteous Brothers". Andy and John each bring a wealth of music and performance experience to the table for this project and audiences will thrill to the sounds of hits such as "You've Lost That Loving Feeling", "Unchained Melody", "Soul and Inspiration" and more. Also thrown into the mix will be hits from other top artist of the same genre such as "The Everly Brothers", "Gary Puckett", and the list goes on. You'll feel yourself being transported back to the glory days of the 60's and 70's, when the music moved us like never before, and you may never want it to end.